| | |
| --- | --- |
| | Forget Black Friday, it's Surprise Saturday! |
| | |
Black Friday do a number on your wallet? We're here to help! All new FREE HOLIDAY ANTHOLOGY from some of your favorite authors! Check out six sexy and fun standalone holiday themed shorts from myself, Vi Keeland & Penelope Ward, Samantha Young, Aurora Rose Reynolds, TL Swan, and Natasha Madison! It's only available for a LIMITED TIME, so hurry!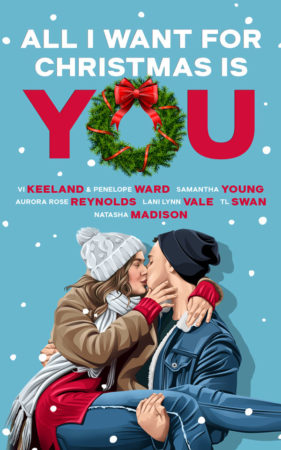 All I Want For Christmas Is You by Vi Keeland, Penelope Ward, Samantha Young, Aurora Rose Reynolds, Lani Lynn Vale, TL Swan, and Natasha Madison
Six standalone holiday short stories!
Ho Ho Holy Hotness by Lani Lynn Vale
Ho ho holy hotness—those were the first words out of Nola's mouth the first time she saw Soren walk up the length of her driveway. Soren the delivery guy who also happened to be an emergency room doctor, has abs of steel, and delivered a mean package. She knew he was the one from the moment that he gave her his candy cane.
Lights Out Love by Vi Keeland and Penelope Ward
Cole is utterly annoyed by his neighbor Josie's obnoxious Christmas display. When she blows out power on the street, he marches over and lets her know what he thinks of the mess she's made. But when the only generator in town brings the two nemeses together…the Christmas display isn't the only thing burning bright.
The Forbidden Christmas Gift by Samantha Young
It's Christmas at Shaw's Department store in Edinburgh! Reid Shaw should feel nothing but gratified by his success. But he's not satisfied because the sexy Scot wants forbidden fruit for Christmas: Evan Munro. Reid's Evan's boss. He's thirteen years older than her. Oh … and she's his best friend's little sister.
Christmas Magic by Aurora Rose Reynolds
A broken down truck, twelve Christmas trees, and a little holiday magic help, Milly Hendricks and Tyler Speeds find their happily ever after.
Alaskan Jack by TL Swan
Holly's, having a bad day. A missed plane, an unexpected road trip and the storm of all storms. When a mountain man comes to her rescue, taking refuge in his cabin is her only choice. Into the wild just took on a whole new meaning.
The Christmas Letter by Natasha Madison
Writing my boss a Christmas letter declaring my love for him was not my finest moment. Neither was accidentally mixing it with his files before handing it to him. Now I have to sneak back into his office at night to get it back. What can go wrong?
Just click on the link above to grab your free book, and sit back and relax with some hot cocoa (or wine!) and get in the holiday spirit with our steamy Christmas stories!