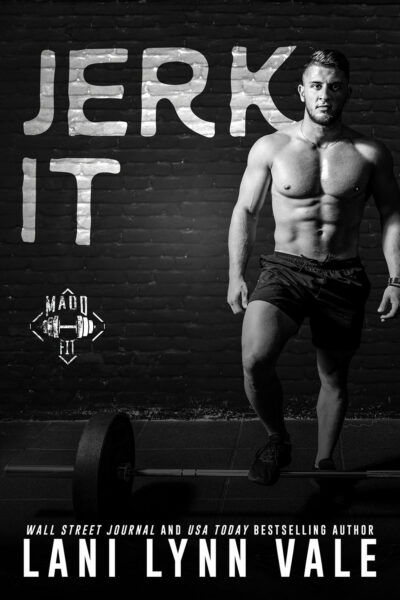 Title: Jerk It
Series: Madd Fit, Book 2
Author: Lani Lynn Vale
Genre: Contemporary Romance
Release Date: September 7, 2021
Photographer: FuriousFotog
Cover Designer: Cover Me Darling

Blurb:
Mavis always assumed that she would be in a hospital with the good drugs when her time came. Not in the middle of the road, with no one around but the damn town mechanic that hated her.
But there she was, having a rock star's baby, with no one to rely on but the one that let it be known around every turn that she was a horrible person.
From the time that she met Murphy and became best friends with him at the age of eight, she knew he was destined for greatness.
But then her grandmother fired Murphy's mom, forcing them to live on the streets, and making Murphy to realize that maybe they weren't best friends after all.
Murphy loved Mavis.
At least, he had when he was younger, before she betrayed him.
From that moment forward, Murphy goes out of his way to stay the hell away from her, and always makes sure to never get too close. Even though everything inside of him screams to make contact.
When he moves back to town after being gone for five years, he tries his best to stay away.
But there she is at his CrossFit gym. Then having a baby on the side of the road. Oh, and breaking him a little more with each step she takes away.
Eventually, they find their way back to each other. The only problem is, by the time that Mavis makes her way back into his heart, it breaks. And not in a rhetorical way. In the 'he only has days to live' kind of way.
---
Buy Links:

Also Available for/from: Kindle CA | Kindle UK | Kindle AUS