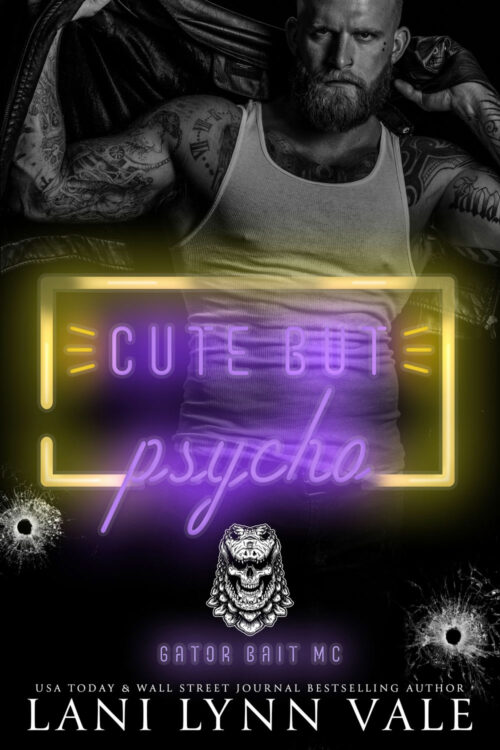 Title: Cute But Psycho
Series: Gator Bait MC, Book 3
Author: Lani Lynn Vale
Genre: Contemporary Romance
Release Date: January 17, 2023
Photographer: FuriousFotog
Cover Designer: Alyssa Garcia at Uplifting Author Services

Blurb:
Etienne LaFayette hits the ground running the moment he breathes free air after being paroled from a maximum-security prison in Texas.
He claws his life back from his brother-in-law who'd taken over his business during the years he'd spent as an inmate at Huntsville Penitentiary. Though it is hard, he puts his life back together in Accident, Florida.
There, he hires new employees, joins a motorcycle club, and becomes wildly successful overnight.
Seems like the perfect life, right?
Wrong.
Because one of his first clients is a beautiful, curly-haired woman that reels him in from the moment he first lays eyes on her. Only, before he can work his charm, she forms an opinion of him based solely on the person that he chose to work at his side, day in and day out. That opinion? Utter disgust.
* * *
Matilda Deveraux has been dealt blow after blow her entire life.
First with the death of her mom. Then living with a stepfamily that despises her.
Her entire life she's been known as different. The "weird girl that creeps everyone out."
It's not her fault that she's different, yet everyone, including Etienne's assistant, treats her like she's a menace to society. Like she would be better off in a loony bin than gracing the streets of Accident, Florida.
After years of abuse from everyone around her, the last thing she needs is to be around a man that would have that horrible woman around him twenty-four seven.
As a result, she forms an opinion—something that people do to her all the time—
---
Buy Links:

Also Available for/from: Kindle CA | Kindle UK | Kindle AUS