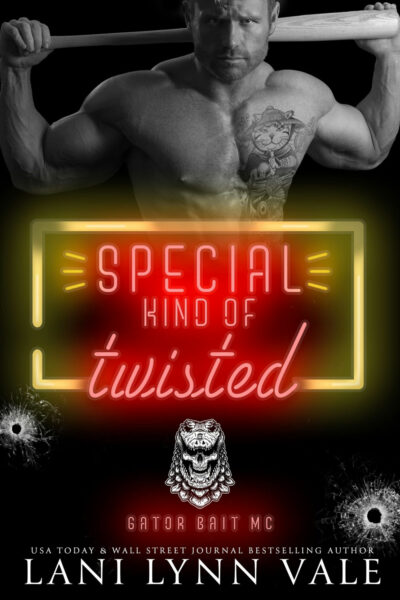 Title: Special Kind of Twisted
Series: Gator Bait MC, Book 6
Author: Lani Lynn Vale
Genre: Contemporary Romance
Release Date: May 23, 2023
Photographer: FuriousFotog
Cover Designer: Alyssa Garcia at Uplifting Author Services

Blurb:
He had a way of pulling everyone into his darkness. Then, to make matters worse, he convinced you that you liked it there.
Kyle Davis—ex professional baseball player and current felon—loved Sara, his best friend. Strictly platonically, of course. He'd do absolutely anything for her, even put up with Greer, Sara's other best friend.
What she was not was Kyle's best friend. Or any friend at all, to be honest.
In fact, they couldn't stand to be in the same room with each other, let alone breathe the same air for any length of time.
Then something happens, forcing the two of them to work together to keep Sara blissfully unaware of the danger Greer's in.
They come up with a plan. Sara doesn't need to know.
What she doesn't know won't hurt her.
The funny thing is, Sara knows all. Sara also knows the two of them are destined to be with each other.
She only has to convince them of it first.
---
Buy Links:

Also Available for/from: Kindle CA | Kindle UK | Kindle AUS