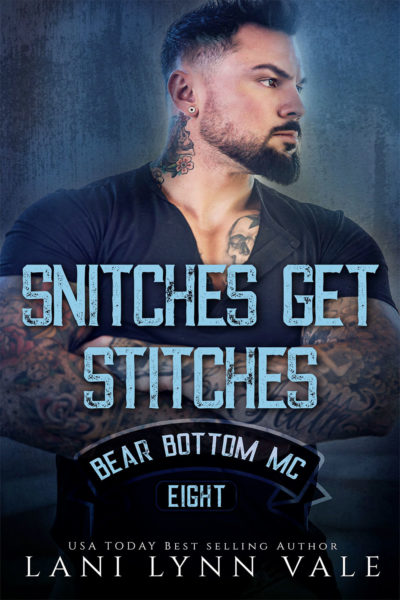 Title: Snitches Get Stitches
Series: Bear Bottom Guardian MC, Book 8
Author: Lani Lynn Vale
Genre: MC Romance
Release Date: April 9, 2019
Model: Zach Forza
Photographer: FuriousFotog / Golden Czermak
Cover Designer: Cover Me Darling

Blurb:
Good vs Bad.
Light vs Dark.
Right vs Wrong.
There are always two sides to every coin.
Josiah 'Liner' Paldecki knew the moment he laid eyes on her that there was something different about her. Something special. Something so unique that it practically poleaxed him the moment that their eyes met.
Except, the next time he saw her, it was like she was a different woman altogether. There was a blankness to her eyes that concerned him. An air of menace about her that honestly scared him to death. He's more than man enough to admit it.
At first, Liner thinks it's because she's bi-polar, or possibly psychopathic.
Then he realizes the truth.
That there isn't a single person that exhibits such different personalities, but two.
Two identical twin sisters, both completely different, yet exactly the same.
One with a soul, and one without.
One that has his heart, and one that only wants to destroy it.
---
Buy Links:

Also Available for/from: Kindle CA | Kindle UK | Kindle AUS