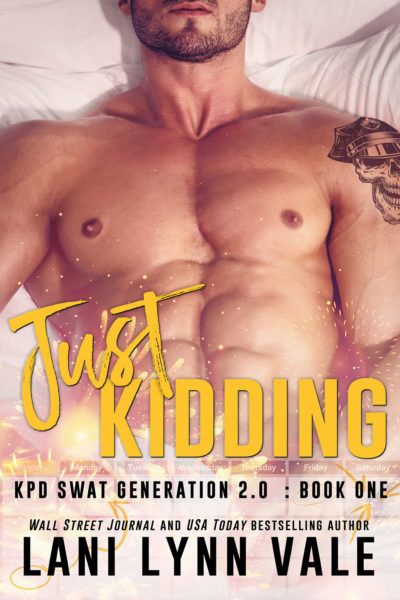 Title: Just Kidding
Series: SWAT Generation 2.0, Book 1
Author: Lani Lynn Vale
Genre: Contemporary Romance
Release Date: January 7, 2020
Photographer: FuriousFotog
Cover Designer: Cover Me Darling

With these new series, I'm going to be doing a calendar, hence the design of the covers!
On each calendar, the photo for the month will coincide with the book that I'm releasing. On it, there will be the release days, as well as any other important information on things relating to me! Buy links to come.
Blurb:
Let's do a calendar, they said. It'll be fun, they said.
Well, they—i.e. Kilgore Police Department's public relations specialists—were wrong.
Now, every time Dax Tremaine walks around a corner, the women of Kilgore, Texas can't help calling him Mr. January.
Mr. January, can you fix my flat tire? Mr. January, can you cuff me? Mr. January, can you sign my boob?
It goes from bad to worse when even on a SWAT call, the women won't stay away.
* * *
It was the worst time of her life. Rowen Roberts had finally admitted to herself that the man she loved would never love her back. She was just fired from her job for violating client confidentiality, and to make matters worse, she's held up at gunpoint in a convenience store where she only wanted some ice cream to help mask the pain.
The moment the gun is pressed to her forehead, she knows she has a decision to make. Follow the rules and maybe possibly live, or go down swinging where at least she can salvage just a little bit of her dignity.
And when Mr. January himself tells her to do what the gunman says, she's had enough. Rowen has never really been a girl that does what she's told. Mr. January won't have to save her. She can dang well save herself.
Note: Rowen is from Center Mass (Luke & Reese). Dax is from Another One Bites the Dust (Max & Peyton).
---
Buy Links:

Also Available for/from: Kindle CA | Kindle UK | Kindle AUS
---
I'm not crying, you're crying!

By now, I'm sure you all have seen everything that's going on in Australia (especially those that live there.) I swear, every time I see something on social media about a Koala begging for water or a kangaroo's poor burned feet, my poor heart aches. The devastation over there is unreal.

Which is why my sales from Just Kidding in Australia on January 8th (Wednesday) will all be donated to help with the wildfires.
Kindle AUS | Kobo AUS | Apple Books AUS

I know that A LOT of you have already donated, but if you haven't and are in a position to (and want to) here are some helpful links: